Find nail ideas and designs for fall, winter, spring, summer, or for any time at all.
There's nothing like a great manicure to make you feel your best. With all of the time we spend typing and tapping on our devices, it only makes sense that our nails should look fabulous as often as possible. And with nail polish strips, you can easily get almost any nail look. So now a fun and seasonal mani is an accessible little luxury.
Not a nail-painting expert? No worries! Nail polish strips make it easy to get the look with a few simple steps, and no need for art skills or polish! So head over here to read our simple guide to applying nail polish strips. And check out these nail design ideas below for every season and holiday!
Christmas Nail Art Inspiration
What better time to experiment with nail art than the holidays? From minimalist designs to over-the-top artistry, there's a nail look to help you celebrate in style. Here are some of our favorite bold, colorful, and festive ideas that are guaranteed to get you in the holiday spirit.
Glitter is the perfect way to spice up any nail design and make it instantly festive. With these naill polish ideas, there's a shimmery, shiny nail look for every occasion.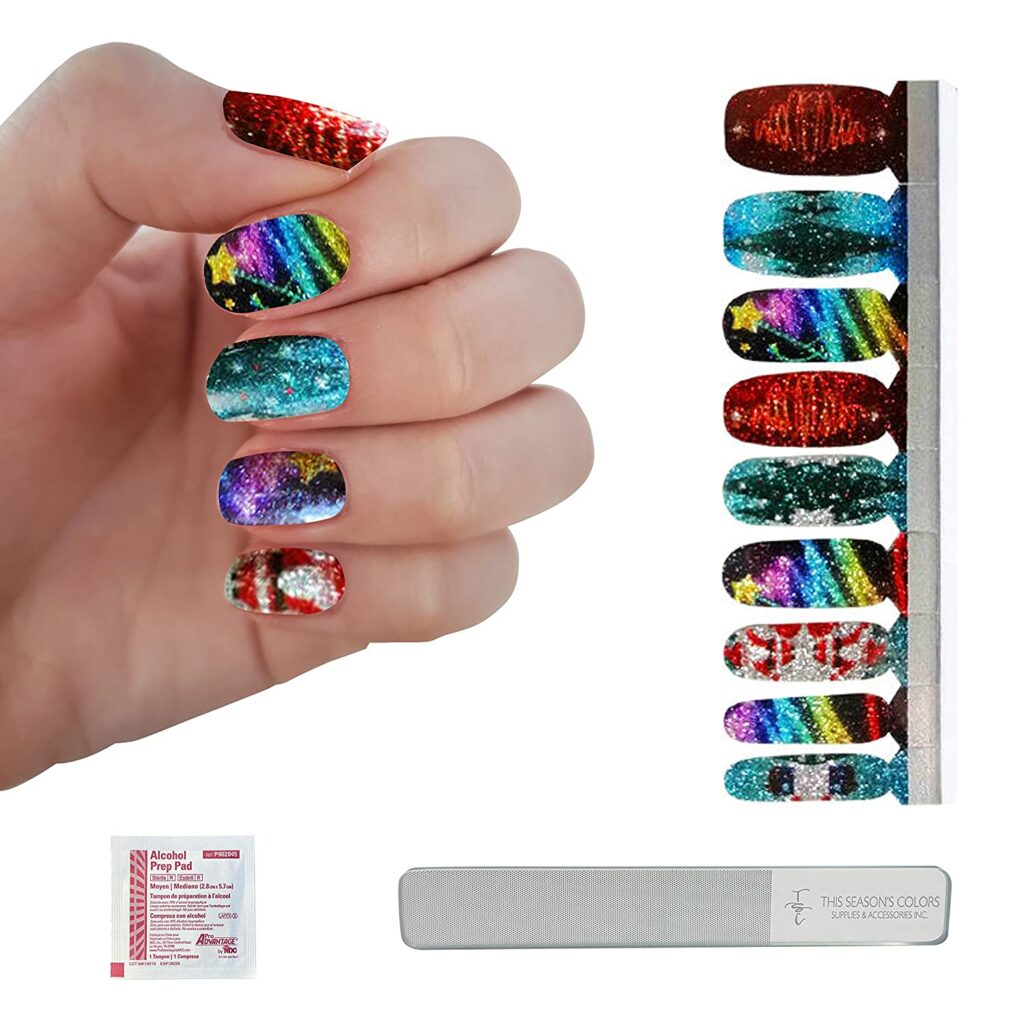 Winter Nail Art Ideas
It's that time of year again, the holidays are over, yet you are still feeling festive. So why not blast some cheerful tunes while decorating your nails with This Season's Colors nail polish strips?
If you love winter for the holiday season it brings, you can also try some fun wintery nails with some sparkle and shine! These sparkly snowflake nails will work from Christmas through New Years
Valentines Day Nail Art Ideas
Wear your heart on your nails with these two romantic manicures!
We've got two of the sweetest Valentine's Day manicure ideas out there to inspire you to wear your heart on your nails during the season of love.
St. Patrick's Day Nail Art Inspiration
Spring Nail Art Ideas
It's the onset of spring and the season of showers and flowers. Cheerier, warmer weather has officially arrived, and it's time to bring on the spring nail designs.
A daisy manicure can be a sweet and simple way to welcome the new season! Or if you're looking for a classic spring look, elegant solids and pastel polishes can complete any spring look.
Summer Nail Art Inspiration
Now it's time to transition from spring nail art and bring on the color — because the best summer nails are nothing if not colorful. With these easy-to-apply nail polish strips, nail art has never looked so cool for the season.
Bright yellow beams of light, green leaves full of life, baby blue ocean waves — your manicure can take a cue from the lively and vibrant colors found all around us during the summer months.
Patriotic Nail Art Ideas
Memorial Day, the Fourth of July, and Labor Day undoubtedly conjure images of all things Americana—flags, stripes, stars. You name it. When these summer holidays come around, you're sure to see these images splashed all over, well, just about everything. Homes and stores play host to patriotic decor, and celebrators put on their best red, white, and blue outfits at neighborhood cookouts.
Fall Nail Art Inspiration
Many of us make a sharp turn to muted colors and deep shades when pumpkin spice latte season, aka autumn, rolls around.
So should you feel so inclined to pair all your oversized sweaters with a manicure worth skipping gloves for, we've rounded up some of the best fall nail art ideas that have This Season's Colors team falling in love.
Football Season Inspiration
There are so many ways to get creative with your manicure with nail polish strips. Remember, there's no limit to what you can wear and when—that's the beauty of art, whether it's on your fingers or toes!