Nail trends come and go just like the seasons! Sometimes long, coffin-shaped nails are all the rage, and sometimes a clear polish with short rounded nails takes the cake. Either way, nail trends are always changing and adjusting based on fashion, the season, and what colors are "in". Between the ever-changing nail trends and the pandemic that took over most of 2020 and continues into 2021, it has become increasingly difficult to keep up with a perfect pedicure and manicure.
But there's where nail strips come in! They've honestly taken over the beauty market recently! Offering a variety of fun, creative and modern designs, nail strips have become many people's go-to for a manicured look, without the price or need to leave the house. But don't just take our word for it.
We're sharing 5 reasons why we believe nail strips are the best option for the perfect manicure!
1. Nail Strips Offer On-Trend Colors and Designs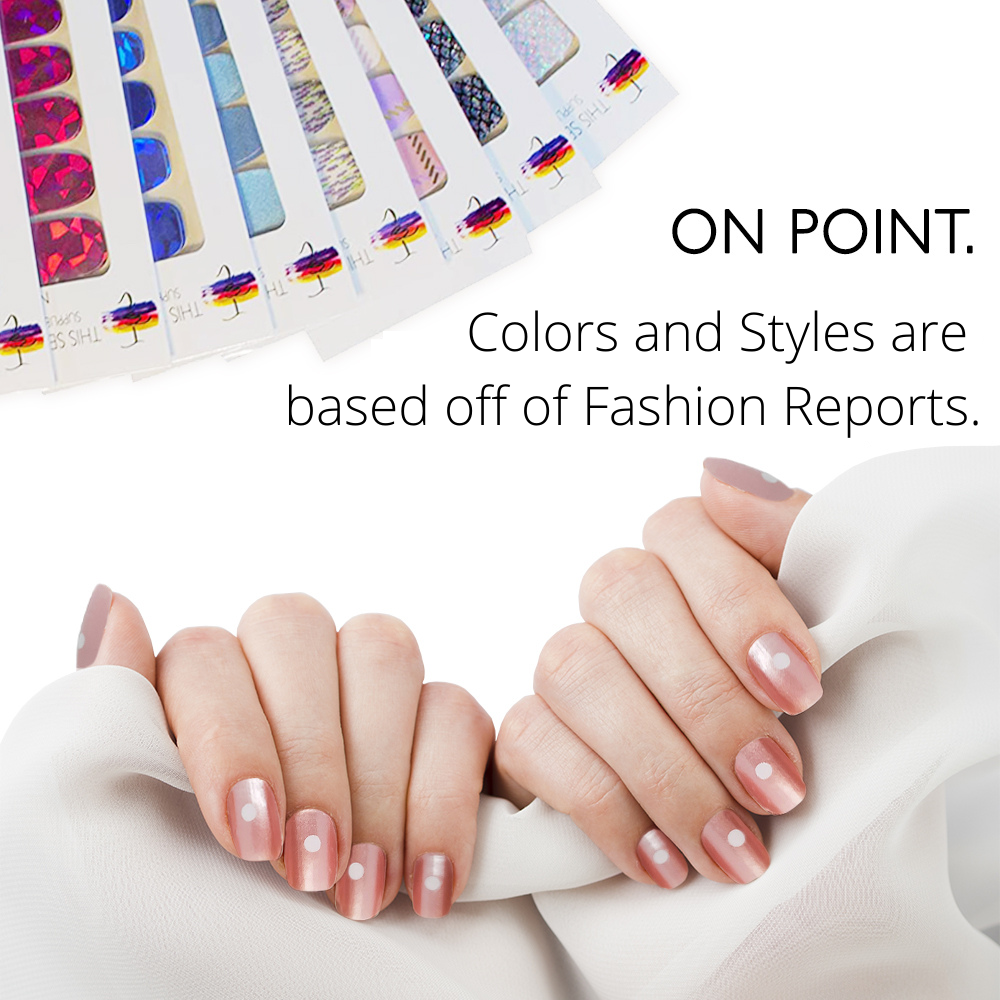 One of the best parts about utilizing color nail strips is the variety that you can choose from! If you are ordering from a company that stays on top of the seasons' trends, you'll never feel out of style. Nail strips offer you the option of just picking a solid color to keep it simple, or getting a beautiful, intricate design without the cost or wait time! High-quality nail strips will have a design or pattern that gives the illusion of a freshly given manicure and helps you feel gorgeous in the skin you're in.
Trends in fashion and beauty are always changing and using nail strips allows you to change up your color or design whenever you feel like it, with no hassle. It can be very pricey to keep up a consistent manicured look, and even pricier if you like to implement designs onto your nails. Color nail strips are the perfect solution, giving you effortlessly perfect nails without the price tag!
2. They're Easy To Apply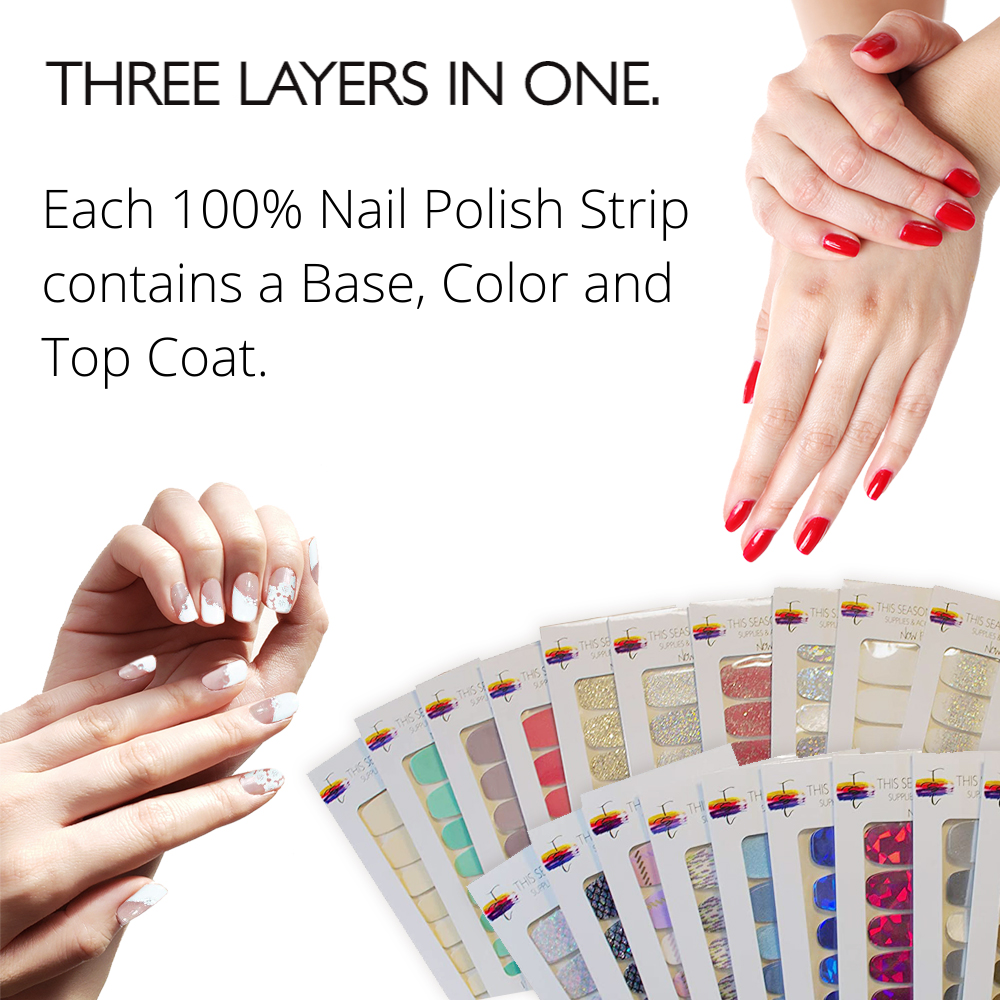 Nail strips are super easy to apply, making them perfect for everyone! When you order nail strips from This Season's Colors, you'll receive all the tools needed to give yourself the perfect manicured nails. The key to applying nail strips is making sure your nails are free of any polish or anything else that may hinder the way the nail strip holds to your nail.
After you've cleaned off your nails, you just need to shape and buff them with a file. A high-quality nail strip set will come with one, like our glass nail file that comes with all nail strips! Once you've shaped and buffed them, you'll be ready to apply the nails and enjoy your new manicure.
3. Nail Strips Are Healthier For Your Nails
Using color nail strips over going to get a manicure done at a nail salon has a lot of benefits. One of the biggest is that it's healthier for your nails. Gel polish, acrylic nails, SNS and dip powder nails, and gel nails are all harsh on your nails. When you get these services done you may love the way your nails look but it's actually causing damage to them.
Nail strips don't damage and suffocate your nails like gel polish and acrylics do. Because they're so easy to take off and put on, they're perfect for giving your nails the break they need! In addition, they aren't made of harsh chemicals like most polishes and acrylic-based nail enhancements. It's important to take care of your nails like you would your hair or anything else. Utilizing color nail strips will help keep your nails on-trend and healthy, the perfect combo!
4. Save Time On Your Manicure
With classic nail polish, you have to paint layer after layer and wait 30 minutes in between each coat for your manicure. Who has time for that now??
With nail polish strips, you can add a touch of glamour or a pop color to your nails as quickly as putting on some jewelry to go with your outfit of the day. These strips are time-saving and last up to 10 days and are incredibly easy to apply. All you need to do is peel the strips and stick them on. You don't even have to wait for it to dry. Isn't it amazing?
5. Nail Strips Are Easy To Travel With
Most bottles of traditional nail polish are 4-6 oz which is over the liquid requirements for the TSA. So if you're flying for your next vacation, you can't bring your cute nail polish in your carry-on luggage. This also means you won't be able to do your nails at the airport while waiting for your flight or even on the plane.
With nail polish strips, they're dry and ready to be placed on your nails! So you can throw them in your purse and have them with you for whenever you want to do your nails – on a flight, in a coffee shop, in your car before an important meeting, the list goes on and on! And there is no strong nail polish smell with this product either! So there's no fear of disturbing people around you with strong smells!
If you're looking to spice up your manicures, check out our selection of nail strips on our website or on Amazon! We want to bring unity to communities using this season's colors, and next.
If you need a tutorial on how to apply your nail strips, click here.
We hope you are able to enjoy your color nail strips and feel beautiful, inside and out!
❤️ – This Season's Colors Team